French Open 2017: Tennis Packages
French Open, Paris
Inclusions
Itinerary
Terms
About
Roland Garros, also called The French Open, is the largest clay court tournament of the year. Because of the slow playing surface and the five-set men's singles matches without a final set tiebreak, it is considered to be the most physically demanding major.
This incredible French tennic vacation experience provided by Grand Slam Tennis Tours has a wide variety of tennis seats, including Category 1, Category 2, and Loge locations in Philippe Chatrier (Court Central), boasting excellent views of all the tennis action. Your accommodation at Hotel Bel-Ami, is situated in the center of Paris in the Saint-Germain-des-Prés neighborhood between the national museum of Quai d'Orsay and the Notre-Dame cathedral.
French Open Tennic Vacation Package Inclusions
5 Star Hotel accommodations and daily breakfast at Hotel Bel-Ami
Reserved seats in Court Philippe Chatrier
Daily escort and transfer to the tennis matches
Welcome dinner with past tennis champions
Historic Paris city tour
Tennis playing opportunity followed by a Parisian brunch
Commemorative gift
Services of Grand Slam Tennis Tours Hosts
Dates and Pricing, plus specific ticketing inclusions/per package
Package
Dates
Category 2
Category 1
Loge
Opening Rounds
Sat May 27 - Thu Jun 1
(5 nights)
3 days on Philippe Chatrier
Sun May 28,

​Mon May 29, ​Tue May 30

$3,325
$3,800
$5,175

Second Rounds




Tue May 30 - Sun Jun 4




(5 nights)

2 days on Philippe Chatrier




Web May 31,

​Thu Jun 1

$3,375
$3,950
$5,075

Third Rounds




Tue May 30 - Sun Jun 4




(5 nights)

2 days on Philippe Chatrier




Fru Jun 2,

​Sat Jun 3

$3,550
$4,125
$5,850

Round of 16




Fri Jun 2 - Wed Jun 7




(5 nights)

2 days on Philippe Chatrier




Sun Jun 4,

Mon Jun 5

$3,650
$4,450
$6,350
Quarterfinals & Women's Semifinals
Mon Jun 5 - Sat Jun 10
(5 nights)
3 days on Philippe Chatrier
Tue Jun 6, Wed Jun 7, Thu Jun 8
$4,225
$5,175
$7,425
Men's Semifinals & Women's Final
Wed Jun 7 - Mon Jun 12
(5 nights)
2 days on Philippe Chatrier
Fri Jun 9, Sat Jun 10
$4,575
$5,650
$11,250

Women's & Men's Final




Wed Jun 7 - Mon Jun 12




(5 nights)

2 days on Philippe Chatrier




Sat Jun 10, Sun Jun 11

$4,575
$5,650
$11,250
Note:
Rates are per person based on double occupancy
Additional nights: $250 per person per night
Single supplements: $225 per night
Things to do
A sample itinerary, depending on the package chosen, could look like this:
Day 1: Welcome to Paris
Indulge in "La vie en rose" at the Bel Ami Hotel, in a warm and chic ambiance in which carefully designed lighting, an elegant mix of pastel colors and a huge central illuminated suspension entice you to enjoy the Parisian spirit.
Situated in the heart of Paris, you will love your walks in the chic streets of the Saint-Germain-des-Prés district. Have a coffee in the famous Café de Flore, taste the world renowned macarons in the cozy LaDurée pastry shop by the Saint-Germain church, or shop in the luxury boutiques of Le Bon Marché, the oldest French department store.
On your first night you will enjoy a welcome dinner and tour orientation at an authentic Parisian restaurant. You will have an opportunity to bump elbows with past Grand Slam champions, our staff, and other tennis enthusiasts from around the world.
Day 2, 3, 4: Watch and Play Tennis
You will spend your next few days enjoying what you primarily came to Paris for - watching world-class tennis at Roland Garros! From your exclusive seats in Philippe Chatrier, you will have a chance to see all your favorite players battle it out at the second Grand Slam of the year. If you are joining us for tennis on one of these days your next stop will be the Tennis Club De Paris, here we will have the opportunity to play tennis on the "terre bateau" (red clay) surface followed by a Parisian brunch.
Day 5: City Tour
After a good night's rest, you will spend the next day touring the most notable and historic of Parisian sites. Enjoy a guided tour of Paris' most iconic landmarks with a local guide to walk you through the history and inside secrets of the city.
---
Frequently Asked Questions

Where are my seats located?
You will have excellent Category 1 or Category 2 seats on Court Philippe Chatrier (Center Court), depending on the ticket package you purchase. We also have a limited number of Category 1 or 2 seats on Suzanne Lenglen, the second largest court at Roland Garros, where many of the best matches take place over the first ten days of the tournament.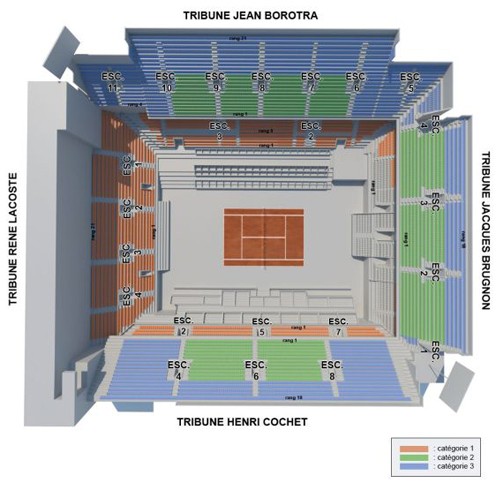 What is Included in the Hotel Package Price?
Your package will include hotel accommodations with breakfast daily, a welcome dinner, farewell dinner, metro pass, commemorative gift and the services of our tour hosts. We also offer optional tennis playing on specified days followed by a traditional Parisien Brunch.
How Flexible are Tour Travel Dates?
Very. You can book additional or fewer hotel nights. You even have the option to combine tours for more days of tennis. Ask your Grand Slam Tennis Tours agent for details.
What is the Weather Like in Paris?
The temperature in Paris is usually around 68-72ºF during the day and cooler at night. Dress at the tournament is casual, and at our dinners and most restaurants in Paris, "smart casual" is suggested.
How Do We Get to Roland Garros?
A Grand Slam Tennis Tours host will escort Premium Package guests to the tennis each day. Metro passes included in your tour package are good for travel on the Paris Metro, buses and trains. Private event transfers are available for an additional fee.
Should you book an additional night on the Finals package?
In the unlikely event that the Finals are rain delayed until Monday, we suggest you stay in Paris for an extra day and return on Tuesday. Monday Finals are a rare occurrence, so you will have a full day available to sight see and shop.
What's the Tennis Tickets & Rain Policy?
If matches are cancelled due to weather or for other reasons, seat privileges are lost for that day. No rain checks are issued. Grand Slam Tennis Tours does offer Rain Insurance, so ask your sales representative for details.
Terms & Conditions
Grand Slam Tennis Tours Booking Contract Acceptance of the following conditions.
Tour participants accept the following conditions with the submission of the 50% deposit or full payment.
Cancellation
Any deposits are non-refundable. After full payment is received, the full cost of the tour is non-refundable. Cancellations must be submitted in writing (email or fax are acceptable).
Tennis Tickets
If the matches are cancelled due to weather or other reasons, seats privileges are lost for that day. No rain checks will be issued.
General Conditions
Grand Slam Tennis Tours, hereinafter referred to as GSTT, reserves the right to substitute a hotel, boat, bus, car, or airline for any reason and to cancel or withdraw or alter, in whole or in part, the itinerary of any trip prior to or after departure should GSTT deem circumstances require it, whether as a result of closures of any kind, repairs and maintenance, inclement weather or due to any other factors beyond the control of GSTT, and GSTT will have no liability for any loss arising from such change. All transfers between hotels, boats, airports, train stations or other places are the expense of passenger, unless specifically included in the officially published tour price and if any delays preclude the use of prepaid accommodations or activities, those accommodations or activities shall be nonrefundable. All costs incurred by any late arrivals or early departures must be borne in full by the individual passenger(s) concerned: i.e., taxi, restaurant, and hotel fees. GSTT is not liable for any expense for missed airplanes, trains, buses, or any other conveyance, or for any inconvenience caused to any passenger(s) by late transfer arrivals or departures for any reason. The right is also reserved by GSTT to decline to accept or retain any person as a participant on the tour at any time; in such cases, refunds will be based on the cost of the unfinished portion of the trip, as determined by GSTT. Any passenger(s) leaving the tour early, or at an unscheduled time of their own free will, will be due no refund of any kind from GSTT or its agents, sub-agents, suppliers, or other persons.
Responsibility
Grand Slam Tennis Tours, hereinafter referred to as GSTT, has made arrangements with airlines, cruise ships, hotels, sightseeing companies (bus operators) and other suppliers to provide services, as outlined herein, and has exercised reasonable care to ensure that proper arrangements have been made for the client. Also, local clubs may be used for private play. The customer acknowledges that GSTT is acting as an independent intermediary for these various suppliers. GSTT has no responsibility or liability for these suppliers, over whom GSTT maintains no control over their personnel, equipment or operations. GSTT can assume no responsibility for and cannot be held liable for any personal injury, property damage (including lost luggage) or other loss, accident, delay, inconvenience, or irregularity which may be occasioned either by reasons of
any wrongful, negligent, or unauthorized acts or omissions on the part of any of the suppliers,
any wrongful, negligent, or unauthorized acts or omissions on the part of any employee of any of these suppliers,
any defect in or failure of any vehicle, equipment or instrumentality owned, operated or otherwise used by any of these suppliers, or
any wrongful or negligent acts of omission on the part of or any other parts not under the control, direct or otherwise, of GSTT. Furthermore, GSTT cannot be held responsible for any Acts of God, weather conditions, wars, illness, quarantine, strikes, terrorism or other causes not controlled by GSTT and not known to GSTT at the time of departure. In the event of a change of services to be provided our clients, GSTT shall substitute said services with comparable quality as originally stated. The package itself does not start until passenger arrival at the designated hotel.