Australian Open: Tennis Packages
Australian Open, Melbourne
Inclusions
Itinerary
Terms
About
The Australian Open kicks off the tennis year down under in Melbourne with a bang! With brilliant facilities and all the top players, the Australian summer plays perfect host to the drama. As an official tour operator, Grand Slam Tennis Tours (GSTT) offers the best Category 1 courtside seating in both Rod Laver and Margaret Court Arenas guaranteeing you an unforgettable tennis experience.
The hotel accommodations are within walking distance of many great restaurants and shops, as well as all the tennis action at Melbourne Park. You also get access to corporate hospitality areas to cool down and grab a bite to eat in between matches.
4 Star hotel accommodations and daily breakfast at The Langham
Category 1 Seats (Best in the House with options for reserved dining)
Welcome dinner with past tennis champions
Farewell dinner
City tour of Melbourne
Tennis playing opportunity at Kooyong Lawn Tennis Club
Commemorative gift
Services of Grand Slam Tennis Tours Hosts
Seating
Rod Laver Arena (RLA) Seating - Category 1 seats
Margaret Court Arena (MCA) Seating - Front Row Seats
Package
Tour Dates
Session of Tennis
Price*
Early Rounds
(5 nights)
Sat, Jan 14 to Thu, Jan 19
Combination of:
2 sessions in Rod Laver Arena (RLA)
2 session in Margaret Court Arena (MCA)
Mon, Jan 16 to Wed, Jan 18
$2,750
Early Rounds
(6 nights)

Sat, Jan 14 to Thu, Jan 20

4 Day and 4 Night sessions in RLA


Mon, Jan 16 to Thu, Jan 19

$3,875
2nd & 3rd Rounds
(6 nights)
Tue, Jan 17 to Mon, Jan 23
Combination of:
4 session in RLA
2 sessions in MCA


Thu, Jan 19 to Sun, Jan 22

$5,450
Later Rounds
(6 nights)
Fri, Jan 20 to Thu, Jan 26
4 Day and 4 Night sessions
Sun, Jan 22 to Wed, Jan 25
$5,975
Final Rounds
(6 nights)
Tue, Jan 24 to Mon Jan 30
1 Day and 1 Night session
3 Twilight sessions
Thu, Jan 26 to Sun, Jan 29
$7,275

* Price Per Person based on double occupancy
* Additional nights: $190 per person per night
* Single supplements: $190 per night
* Includes Accommodation, Australian Open Tickets, Luncheon, Gift and Services of GSTT Hosts
Things to do
A sample itinerary, depending on the package chosen, could look like this:
Day 1: Welcome to Melbourne
Arrive at the Langham Hotel, a 5-Star property which is nestled amongst an abundance of al fresco cafés, restaurants, and boutiques--and is walking distance to Melbourne Park where all the tennis action takes place! On your first night you'll enjoy a welcome dinner and tour orientation at The Deck, a popular Melbourne haunt known for its modern Australian cuisine and stunning views of the city. You'll have an opportunity to bump elbows with past Grand Slam champions, our staff, and other tennis enthusiasts from around the world.
Day 2: City tour and play tennis
After your good night's rest, you'll spend the next day touring the city of Melbourne where you will learn about the history of the city and its people. Take advantage of plentiful photo opportunities, including stops at the Botanical Gardens, St. Patrick's Cathedral, and the Shrine of Remembrance. Your last stop will be Kooyong Lawn and Tennis Club, the former site of the Australian Open. If you're a tennis player, you'll have the opportunity to stay and play on the grass.
Day 3, 4 and 5: Watch Tennis
You'll spend your next few days enjoying what you primarily came to Australia for - watch world-class tennis! From your courtside or lower level seats in both Rod Laver and Margaret Court Arenas, you'll have a chance to see all your favorite players battle it out at the first Grand Slam of the year. On your final day of tennis we'll host a farewell dinner on site at Melbourne Park.
---
Frequently Asked Questions
Where are my seats located?
We have tickets in several different sections of the stadiums. All of our seats are CATEGORY 1 seating. In Rod Laver Arena, we offer seats in the third row on the sideline of the court, and in row P, 16 rows back on the baseline. Both options are excellent. But, if you are looking for the most amazing seats at the Australian Open, make sure you plan a day in Margaret Court Arena where we have seats in the FIRST ROW in section 19! It doesn't get any better than that! You will have access to a Corporate Hospitality Marquee for lunch, dinner and relaxation. You also have unlimited access to 13 outside courts and Hisense Arena.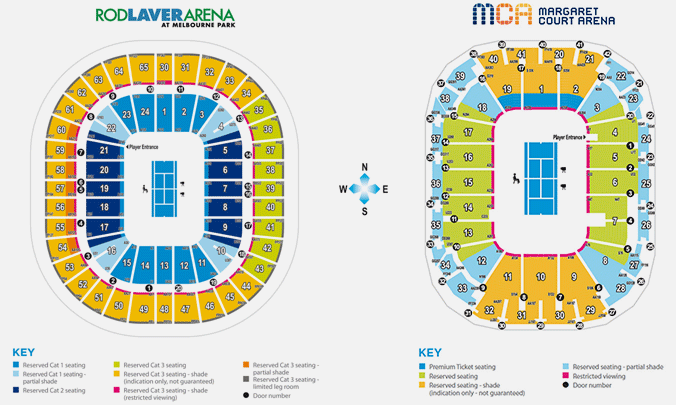 What is included in the package price?
Packages include hotel accommodations for the dates listed with daily breakfast, Courtside Box Seats in Rod Laver Arena, Welcome Reception & Farewell Dinner, Commemorative Gift, and the services of our Tour Hosts. In the Wander Down Under Packages airport transfers and domestic air fare are included. Hotel and Sessions of tennis can all be modified. Economy air from Los Angeles, CA can be added. Please call to design your custom package.
How flexible are the tour/travel dates?
They are very flexible. We have blocked seats for specific departure and return dates in January. However, you can travel to the South Pacific a few weeks earlier and stay through February (up to one month). Fares are available for longer stays. We have a variety of special side trips and stopovers to choose from. Click here to go to our Explore More packages to New Zealand and other Cities in Australia.
Are there special accommodations for family or groups?
Yes, we work with our clients to find appropriate rooms and suites for families and groups.
Do we need a Visa for Australia?
Yes. If you are a US or Canadian Citizen you will need a VISA to enter Australia. If you book your international air flights with Grand Slam Tennis Tours, your VISA will be issued automatically with your tickets. If you choose to book your flights independently, ask your booking agent about your VISA.
How long is the flight to Australia?
Your flight crosses the International Date Line on its journey down to the South Pacific, so you actually 'jump over' this day. You actually arrive two days later than you departed. For example, if you leave on Fri. Jan. 13 you will arrive in Melbourne on Sun. Jan. 15. However, the day you have 'lost' on your flight down will be returned to you when you come back home again, so it all balances out in the long run. On your return, you arrive in LA earlier on the same day that you departed Melbourne.
How do we get to Melbourne Park, the tournament site?
The stadium is conveniently located on the edge of downtown Melbourne, less that one mile from our hotels. It's a 10-15 minute walk or tram ride to the stadium. We will escort you to Melbourne Park on your first day. When does play start? Click here for a complete schedule of play. During the first 11 days, day sessions start at 11:00 a.m and night sessions at 7:00 p.m. The last night session is the second Thursday. Friday session starts at 3:00 pm, Saturday at 1:00 p.m. and Sunday at 4:00 p.m. You will be advised of any last minute changes in scheduling.
How Do We Get Around Australia?
Australia is about the geographic size of the United States. We can plan itineraries usually with flights, as this is the most efficient way to see many places. However, trains, ferries and rental cars are also available and can be built into your package.
Terms & Conditions
Grand Slam Tennis Tours Booking Contract Acceptance of the following conditions.
Tour participants accept the following conditions with the submission of the 50% deposit or full payment.
Cancellation
Any deposits are non-refundable. After full payment is received, the full cost of the tour is non-refundable. Cancellations must be submitted in writing (email or fax are acceptable).
Tennis Tickets
If the matches are cancelled due to weather or other reasons, seats privileges are lost for that day. No rain checks will be issued.
General Conditions
Grand Slam Tennis Tours, hereinafter referred to as GSTT, reserves the right to substitute a hotel, boat, bus, car, or airline for any reason and to cancel or withdraw or alter, in whole or in part, the itinerary of any trip prior to or after departure should GSTT deem circumstances require it, whether as a result of closures of any kind, repairs and maintenance, inclement weather or due to any other factors beyond the control of GSTT, and GSTT will have no liability for any loss arising from such change. All transfers between hotels, boats, airports, train stations or other places are the expense of passenger, unless specifically included in the officially published tour price and if any delays preclude the use of prepaid accommodations or activities, those accommodations or activities shall be nonrefundable. All costs incurred by any late arrivals or early departures must be borne in full by the individual passenger(s) concerned: i.e., taxi, restaurant, and hotel fees. GSTT is not liable for any expense for missed airplanes, trains, buses, or any other conveyance, or for any inconvenience caused to any passenger(s) by late transfer arrivals or departures for any reason. The right is also reserved by GSTT to decline to accept or retain any person as a participant on the tour at any time; in such cases, refunds will be based on the cost of the unfinished portion of the trip, as determined by GSTT. Any passenger(s) leaving the tour early, or at an unscheduled time of their own free will, will be due no refund of any kind from GSTT or its agents, sub-agents, suppliers, or other persons.
Responsibility
Grand Slam Tennis Tours, hereinafter referred to as GSTT, has made arrangements with airlines, cruise ships, hotels, sightseeing companies (bus operators) and other suppliers to provide services, as outlined herein, and has exercised reasonable care to ensure that proper arrangements have been made for the client. Also, local clubs may be used for private play. The customer acknowledges that GSTT is acting as an independent intermediary for these various suppliers. GSTT has no responsibility or liability for these suppliers, over whom GSTT maintains no control over their personnel, equipment or operations. GSTT can assume no responsibility for and cannot be held liable for any personal injury, property damage (including lost luggage) or other loss, accident, delay, inconvenience, or irregularity which may be occasioned either by reasons of
any wrongful, negligent, or unauthorized acts or omissions on the part of any of the suppliers,
any wrongful, negligent, or unauthorized acts or omissions on the part of any employee of any of these suppliers,
any defect in or failure of any vehicle, equipment or instrumentality owned, operated or otherwise used by any of these suppliers, or
any wrongful or negligent acts of omission on the part of or any other parts not under the control, direct or otherwise, of GSTT. Furthermore, GSTT cannot be held responsible for any Acts of God, weather conditions, wars, illness, quarantine, strikes, terrorism or other causes not controlled by GSTT and not known to GSTT at the time of departure. In the event of a change of services to be provided our clients, GSTT shall substitute said services with comparable quality as originally stated. The package itself does not start until passenger arrival at the designated hotel.