Wimbledon 2017: Tennis Packages
The Championships, Wimbledon
Inclusions
Itinerary
Terms
About
Visit Wimbledon the most prestigious Grand Slam on the tennis calendar. Booking this vacation experience with Grand Slam Tennis Tours means you can enjoy a stress free and hosted tour to The Championships, Wimbledon, with the best seats on Centre Court, Court #1, Court #2, hotel accommodation, transfers, playing on grass at The Roehampton Club and much more.
Hotel accommodation at The Hari London Belgravia (4 Star Hotel with pricing per double occupancy)
Daily breakfast
Guaranteed reserved seats for days specified
Debenture seats on Center Court and Court #1
Tennis playing opportunity on grass at The Roehampton Club
Oyster Card - Underground Pass
Welcome lunch or dinner with past tennis champions
London excursion: Windsor Castle and Hampton Court
Hospitality at Grand Slam Tennis Tours Hospitality House (see Itinerary)
Commemorative gift
Services of Grand Slam Tennis Tours hosts
Package
Session
Session of Tennis & Excursion
Price
1st & 2nd Rounds
(3 nights)
Sun, Jul 2 to Wed, Jul 5
Mon Jul 3 Court #1
Tue Jul 4 Center Court
$3,925
1st & 2nd Rounds
(5 nights)
Sun, Jul 2 to Wed, Jul 7
Mon Jul 3 Court #1
Tue Jul 4 Center Court
Wed Jul 5 London Excursion
$6,275
1st & 2nd Rounds
(5 nights)
Sun, Jul 2 to Wed, Jul 7
Mon Jul 3 Center Court
Tue Jul 4 Center Court
Wed Jul 5 London Excursion
Thu Jul 6 Court #1
$8,350
2nd & 3rd Rounds
(3 nights)
Tue Jul 4 to Fri Jul 7
Wed Jul 5 Center Court
Thu Jul 6 Court #1
$3,950
2nd & 3rd Rounds
(5 nights)
Tue Jul 4 to Fri Jul 9
Wed Jul 5 Court #1
Thu Jul 6 London Excursion
Fri Jul 7 Center Court
Sat Jul 8 Center Court
$9,450
3rd Round
(5 nights)
Tue Jul 4 to Fri Jul 9
Thu Jul 6 London Excursion
Fri Jul 7 Court #1
Sat Jul 8 Center Court
$7,150
Round of 16 & Quarterfinals
(5 nights)
Tue Jul 8 to Fri Jul 13
Sun Jul 9 London Excursion
Mon Jul 10 Court #1
Tue Jul 11 Center Court
Wed Jul 12 Center Court
$11,150
Men's Quarters & Women's Semis
(3 nights)
Tue Jul 11 to Fri Jul 14
Wed Jul 12 Court #1
Thu Jul 13 Center Court
$4,750
Men's Semis & Women's Finals
(6 nights)
Tue Jul 11 to Fri Jul 17
Thu Jul 13 London Excursion
Fri Jul 14 Center Court
Sat Jul 15 Center Court
$12,975
Women's & Men's Finals
(3 nights)
Tue Jul 14 to Fri Jul 17
Sat Jul 15 Center Court
Sun Jul 16 Center Court
$9,925
Women's & Men's Finals
(6 nights)
Tue Jul 11 to Fri Jul 17
Thu Jul 13 London Excursion
Sat Jul 15 Center Court
Sun Jul 16 Center Court
$13,650
Note:
Excursion and Tennis Playing Opportunity not included in 3 Night Packages
Rates are per person based on double occupancy
Additional nights: $550 per night
Single Supplement: $275 per night
Things to do
A sample itinerary, depending on the package chosen, could look like this:
Day 1: Welcome to London
Arrive at the The Hari London Belgravia Hotel a modern and contemporary hotel which embodies the charming, old-world heritage of its London neighborhood, a residential area known for its many embassies and ambassador residences. You'll find the central location affords a visit to Buckingham Palace, Hyde Park, the V&A, British Museum and the National Gallery without straying far afield at all.
On your first day you'll enjoy a either a welcome dinner and or lunch and tour orientation. You'll have an opportunity to bump elbows with past Grand Slam champions, our staff, and other tennis enthusiasts from around the world.
Day 2, 3, 4: Watch Tennis and Play Tennis
You'll spend your next few days enjoying what you primarily came to London for - watching world-class tennis at Wimbledon! From your exclusive debenture seats on either on Center Court or Court #1, you'll have a chance to see all your favorite players battle it out at the third Grand Slam of the year.
Day 5: City Tour
After a good night's rest, you'll spend the next day touring the two most iconic castles of London, Windsor Palace and Hampton Court. Here you will have the opportunity to tour the grounds, experience each castle complete with private Tour Guide explanations of each site.
After Windsor Palace and Hampton court your next stop will be the unique private club Roehampton, here we will have the opportunity to play tennis on grass followed by a light dinner on the Roehampton grounds!
---
Grand Slam Tours Hospitality House

The Grand Slam Tennis Tours Hospitality House is a lovely English home a short walk from the All-England Club gates. Fully-staffed throughout the fortnight, it's where all guests and friends are hosted, whether it's to sit and enjoy brunch in the garden, to drop off a jacket before you hustle off to tennis, or to relax with a post-match glass of wine.
Food is provided by private chef Milli Taylor, who joins the group every day to prepare not only brunch and afternoon tea, but refreshing Pimm's cups, beautiful bowls of strawberries and cream and other fun and delicious treats.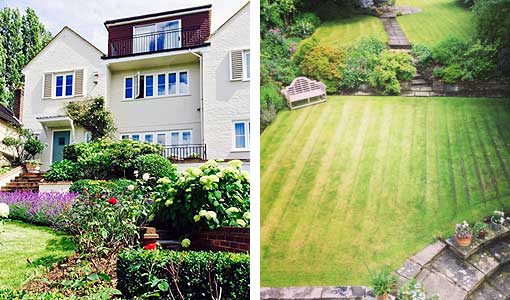 In the morning, guests are welcome anytime after 10am to collect their daily tickets, enjoy brunch in the garden or, if the weather isn't cooperating, in the solarium. Some guests stay into the late morning to kick-off the matches on TV before leisurely joining the Centre Court crowd, and others like to be the first through the gates when they open. Since Wimbledon allows re-entry, guests often drop by in-between matches for a quick drink, to have a snack in the garden, or to shed their jacket if the day has warmed up. If you've made an appointment to play tennis with a GSTT pro at the local courts, you're more than welcome to shower and change upstairs.
This past year, guests came home after evening matches to find Sam [Querrey] and Steve [Johnson] eating BBQ chicken and relaxing in the backyard; together we all popped the magnum bottle of champagne that Steve had taken home after his recent victory in Nottingham. The next day, the very same guests sat in official Debenture seats to watch those play on Centre Court. Upon returning to the Hospitality House, Fred Stolle was there on the couch, having a sandwich, talking about the match. These are not standard tourism experiences, which is exactly as intended.
Details
The Hospitality House is open Monday, July 3rd through Sunday, July 16th, 2017, from 10am and until 1 hour after play ends.
Most Guests arrive via the Tube departing the Wimbledon Park stop, while others arrive by taxi or private car. From the house, it's a short walk to the All-England Club gates.
Access: All Grand Slam Tennis Tours package guests are welcome throughout their stay. Ticket-only guests are welcome on the day of their ticket. Hospitality-only guests must present a ticket to that day's event.
You can visit the Hospitality House by booking one of the packages, through ticket-only purchases, via a daily Hospitality House pass (limited per day), or as a special event guest. To learn more enquire using the contact form on the right.
---
Frequently Asked Questions

Where are my seats located?
Our debenture seats are located either in the 200 level seating or in the lower half of 300 level seating. Our Court 1 seats are within the first 15 rows of the court, and Court 2 seats are around ten rows away from the action!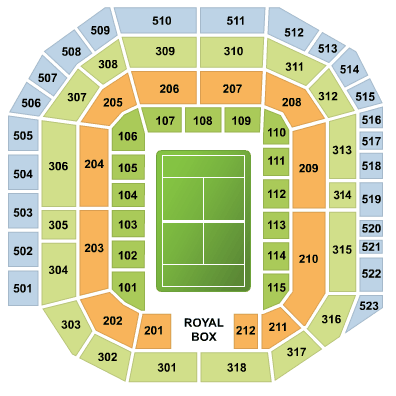 Who Plays Where?
The Show Courts are Center Court, Court 1 and Court 2. For the first nine days of the tournament, top players are scheduled here. In the second week, half of the women's and men's quarters are played on Court 1. Court 3 is partially ticketed, and also has a tremendous lineup throughout the event. Enjoy unlimited access to the matches being played on courts 4-19, where seats are available first-come, first-serve.
Why Don't We Stay in Wimbledon?
The town of Wimbledon, a suburb about 8 miles from London, offers few diversions outside of tennis. The London hotels chosen are close to Wimbledon–less than 30 minutes by Tube. We will escort you to Wimbledon on your first day of tennis. Guests at The Hari London Belgravia Hotel are just a few minutes from major museums, Harrod's and Harvey Nichols department stores. London theaters are 20 minutes by Tube.
How Flexible are Tour/Travel Dates?
Create your own tennis vacation! If you don't see a tour that fits your needs, tell us! We can customize a tour for you. You can easily enhance your stay in London by adding hotel nights or other tour options.
When Does the Tennis Start?
The first 8 days: 1:00 p.m., Center Court and Court 1; 11:30am, other courts. The second week: 1:00 p.m., Center Court; 12:00 noon or 1:00 p.m., other courts, depending on the number of matches to be played. The Grand Slam staff will advise you of any changes in starting times. Matches will continue until the day's schedule is completed or until dark (approximately 8:30 p.m.)
Is There a Rain Refund Policy?
The All England Club's rain refunds: "No play taking place before 6:00 p.m.: a refund of 1/2 the face value of the ticket. No play at all: a full refund of the face value of the ticket." The face value will not cover the actual cost of the tickets in our packages. For a more substantial refund, Grand Slam Tennis Tours offers rain insurance available for a nominal fee. The insurance is only paid if no play takes place the entire day. Enquire for further details.
Terms & Conditions
Grand Slam Tennis Tours Booking Contract Acceptance of the following conditions.
Tour participants accept the following conditions with the submission of the 50% deposit or full payment.
Cancellation
Any deposits are non-refundable. After full payment is received, the full cost of the tour is non-refundable. Cancellations must be submitted in writing (email or fax are acceptable).
Tennis Tickets
If the matches are cancelled due to weather or other reasons, seats privileges are lost for that day. No rain checks will be issued.
General Conditions
Grand Slam Tennis Tours, hereinafter referred to as GSTT, reserves the right to substitute a hotel, boat, bus, car, or airline for any reason and to cancel or withdraw or alter, in whole or in part, the itinerary of any trip prior to or after departure should GSTT deem circumstances require it, whether as a result of closures of any kind, repairs and maintenance, inclement weather or due to any other factors beyond the control of GSTT, and GSTT will have no liability for any loss arising from such change. All transfers between hotels, boats, airports, train stations or other places are the expense of passenger, unless specifically included in the officially published tour price and if any delays preclude the use of prepaid accommodations or activities, those accommodations or activities shall be nonrefundable. All costs incurred by any late arrivals or early departures must be borne in full by the individual passenger(s) concerned: i.e., taxi, restaurant, and hotel fees. GSTT is not liable for any expense for missed airplanes, trains, buses, or any other conveyance, or for any inconvenience caused to any passenger(s) by late transfer arrivals or departures for any reason. The right is also reserved by GSTT to decline to accept or retain any person as a participant on the tour at any time; in such cases, refunds will be based on the cost of the unfinished portion of the trip, as determined by GSTT. Any passenger(s) leaving the tour early, or at an unscheduled time of their own free will, will be due no refund of any kind from GSTT or its agents, sub-agents, suppliers, or other persons.
Responsibility
Grand Slam Tennis Tours, hereinafter referred to as GSTT, has made arrangements with airlines, cruise ships, hotels, sightseeing companies (bus operators) and other suppliers to provide services, as outlined herein, and has exercised reasonable care to ensure that proper arrangements have been made for the client. Also, local clubs may be used for private play. The customer acknowledges that GSTT is acting as an independent intermediary for these various suppliers. GSTT has no responsibility or liability for these suppliers, over whom GSTT maintains no control over their personnel, equipment or operations. GSTT can assume no responsibility for and cannot be held liable for any personal injury, property damage (including lost luggage) or other loss, accident, delay, inconvenience, or irregularity which may be occasioned either by reasons of
any wrongful, negligent, or unauthorized acts or omissions on the part of any of the suppliers,
any wrongful, negligent, or unauthorized acts or omissions on the part of any employee of any of these suppliers,
any defect in or failure of any vehicle, equipment or instrumentality owned, operated or otherwise used by any of these suppliers, or
any wrongful or negligent acts of omission on the part of or any other parts not under the control, direct or otherwise, of GSTT. Furthermore, GSTT cannot be held responsible for any Acts of God, weather conditions, wars, illness, quarantine, strikes, terrorism or other causes not controlled by GSTT and not known to GSTT at the time of departure. In the event of a change of services to be provided our clients, GSTT shall substitute said services with comparable quality as originally stated. The package itself does not start until passenger arrival at the designated hotel.