Adult tennis camps can help you sharpen your tennis skills while having an amazing tennis vacation experience. We've developed a comprehensive guide that explains how they are structured and which one will suit you the best. Navigate through the following options based on the questions you have.
At World Tennis Travel we list some of the best tennis camps to fit all holiday schedules and skill levels. They are designed to strengthen your technique, increase your performance on the court, keep you fit, and make new friends or have a great time with the group you're travelling with. So look forward to training routines combined with relaxing spa and fitness treatments, while being expertly cared for by a team of tennis pros and hospitality professionals.
What Tennis Skills do I need?

The first thing you need to know about tennis camps is that they are designed around your specific needs. You need to know the approximate amount of hours you would like to play per day, how long your vacation is, what type of accommodation you want, and what part of the world you want to visit. Armed with that information you will be able to choose from a variety of tennis packages which come in all shapes, sizes and are carried out in hundreds of locations around the world.
Before choosing a tennis camp, think about your level of play. No one knows your game better than yourself, so it's important to gauge it properly to endure the right training. To make it easier, you can categorize your tennis skills into one of the following:
Beginner Players - Beginner players are those who play a couple of hours every few months. These players are usually interested in learning more about the game and getting in shape, so you receive basic tennis training and physical workouts to go along with it. You may also receive classes to give you a breakdown of tournament-ruled tennis.
Intermediate Players - Players that play frequently, but would like to learn better techniques, strategy, and tactics, are suited for intermediate level camps. Training sessions for intermediate players usually revolve around working on strokeplay, footwork, and court-awareness.
Performance Players - Performance-level players usually participate in amateur (and sometimes higher-level) tournaments, and aim to develop their skill set and win competitions. Tennis camps for performance players are based around in-game tactics, skill sharpening and physical endurance exercises. The length of camps are typically longer ranging from 2 weeks to 3 months.
Besides gauging your playing level, you also need to know how long your holiday is. Adult tennis camps are designed to fit all holiday lengths, from long-weekends to entire summer vacations. The most common types of tennis camps begin from two days, and extend to two weeks.
In addition, there's an array of venues for you to choose, from sophisticated cities like London, to Caribbean-styled luxury resorts in Mauritius and Thailand.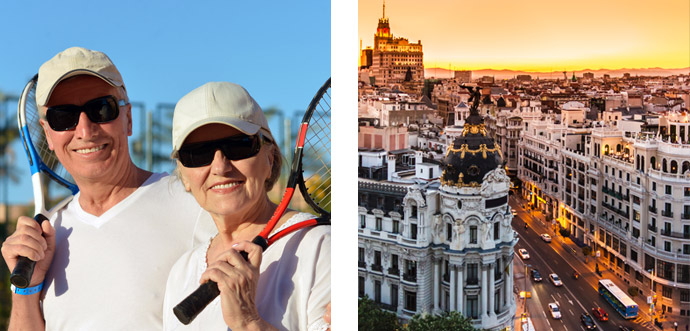 Who should I Travel With?

Tennis camps revolve around playing the game, but it doesn't mean you should be alone. This is an amazing chance to take a partner, family or even a group of friends to a beautiful destination. Work on your tennis skills, get in shape, and have fun on the court with your friends and family, at the same time.
Singles - Flying Solo? Then it's a singles tennis camp for you! Meet and make new friends on the way.
Couples - There are couples tennis camps available so you can share your love for tennis with your significant other. These are usually offered in luxurious hotels and resorts, in a romantic destination like Italy or France.
Families - Family-friendly venues offer great facilities so you and your whole family can spend time doing what you love most. Resorts, like Puente Romano in Marbella, offer other leisure activities like golf, numerous children-friendly pools and even a kid's club where children can indulge in supervised activities suitable for their age group.
Groups - If you have a group of friends or family members who share your love for tennis, and have a similar playing level, you can find group tennis camps to sharpen your skills with familiar faces. The Barcelona Total Tennis (BTT) facility is a prime example as they provide group tennis training sessions for players who base themselves out of Spain, and even travelers who decide to stay for an extended period of time.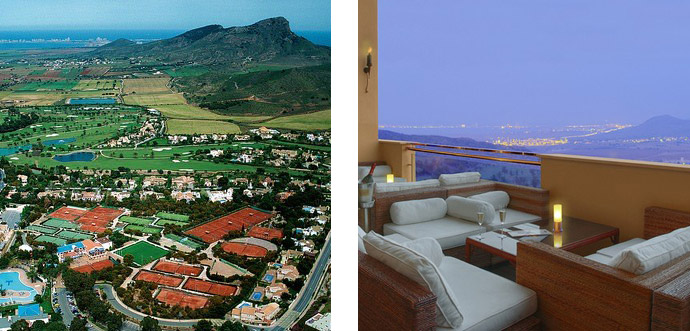 Popular Tennis Camps - Where to Play, Holiday and Train

Traveling tastes vary immensely from one person to the other, and so do adult tennis camps. You can choose to take a tennis holiday in many destinations scattered across five of the six continents. Each venue features unique food, amazing culture and high-quality tennis lessons.
You can choose from cosmopolitan cities like Barcelona or New York, or alluring tropical venues like Bali or the Virgin Islands. Regardless of the length of your holiday, you will have an array of renowned cities to indulge in leisure activities in your free time. We managed to narrow down the most popular tennis camps around the world, based on the quality of their tennis program and accommodation features:
United Kingdom

London is often referred to as the biggest city in the world, and Jonathan Markson Tennis provides an intensive program to match the nickname. Jonathan Markson Tennis was established in 1981, and it was designed to provide intensive, stimulating tennis programs.

The tennis programs are suitable for adults of all levels, and are available during easter (1 week) and summer (9 weeks) holidays. The facilities include 20 all-weather and astro-turf tennis courts, and is surrounded by 100 acres of beautiful wetlands. Downtown London is located just 15 minutes away by car, making it a perfect setting for an intensive tennis camp in England.

Spain

Spain is known as a major tennis mecca around the world, as it consistently produces world-class players like Juan Carlos Ferrero, Carlos Moya, and of course, Rafael Nadal. Spain's fantastic year-round weather allows players to practice outdoors for most of the year in beautiful venues such as Marbella, Mallorca or Barcelona. Adult tennis camps in Spain can even include additional Spanish language lessons, and offer a great chance to explore Spain's culture and cuisine.

France

France and tennis have a long relationship, dating back to the early medieval times. It's no surprise that France has consistently produced high-quality players like Rene Lacoste and Suzanne Lenglen. Adult tennis camps in France are more than sports holidays - the combination of deluxe accommodation, traditional French cuisine and exquisite wines make it an all-around experience. Not to mention the chance to train with world-class coaches in some of the best facilities around the globe. Nice and Monte Carlo are two of France's major tennis destinations, both offering quality adult tennis camps for players of all levels.

Italy

Similarly to Spain and France, Italy offers a great chance to participate in an adult tennis camp and develop your skills. Italy boasts over a dozen luxury venues situated in all corners of the country, including the Mediterranean Sea. Besides professional-grade training facilities, adult tennis camps in Italy offer a great chance to see some of mankind's most beautiful creations such as fine art, amazing architecture and delicious food.

Australia

Australia is known for its arid regions (commonly referred to as "The Great Outback"), marsupials, beer, and rugby. However, it is also a prime location for tennis players to develop their skills and enjoy luxurious holidays. Adult tennis camps in Australia are quite popular already, and they are gaining momentum. Aussies already play host to one of the ATP's most prestigious competitions, the Australian Open. Luxury resorts have developed facilities and adult tennis camps to turn The Land Down Under to a true tennis-fanatic must-visit.

California, USA

Adult tennis camps are available in all corners of the world, and The United States is no exception. California plays host to year-round tennis camps available for adults of all levels. In addition to exceptional tennis camps, California also features great weather, incredible beaches and cities packed with entertainment options. The laid back, West Coast vibe is complimented by amazing venues like the Birch Aquarium, San Diego Zoo and Legoland.

Florida, USA

Florida is located on the East Coast of the USA, and is a popular vacations and training destination for tennis professionals across the world. Luxury hotels and resorts have been offering intensive tennis programs for more than 20 years now, and have catered to professionals such as Svetlana Kuznetsova, Juan Monaco and Andy Murray. The Sunshine State also offers numerous national parks, shopping centers, water sports, and of course, Disney World!

Indonesia

Travel and adventure lovers have the option of taking adult tennis camps in exotic locations around the world like Indonesia. You will have the chance to improve your tennis in one of the world's most popular travel destinations.

An outstanding array of amenities and excellent service will allow you to focus on two things: working on your tennis skills and indulging in relaxing activities on your free time. Impressive golf courses, spa days, temple tours and pristine beaches are some of the options you have available, not to mention daily rigorous training sessions.

Thailand

Thailand established itself as a tennis camp mecca a few years ago as they house Asia's leading tennis holiday destination. Thailand offers top notch sports holiday facilities and options such as deluxe tennis courts, experienced coaches, performance-level packages, sports massages and physiotherapy assessments. These are carefully combined with premier accommodation options and additional tours you can take on your free time.

United Arab Emirates

The United Arab Emirates have become one of the world's most exciting holiday options, featuring some of the most luxurious adult tennis camps on the planet. Located close to Dubai, tennis camps in the United Arab Emirates offer award-winning accommodation options, facilities and an endless number of awesome activities. These activities range from golf and archery to camel riding and even water sports like wake-boarding, kite surfing and big sea fishing.

Antigua and Barbuda

Lying between the Caribbean Sea and the Atlantic Ocean, Antigua and Barbuda offers a great choice for a Caribbean tennis holiday. The afro-Caribbean culture of Antigua and Barbuda combine with the luxury of five-star hotels and resorts.

White-sand beaches, palm trees and turquoise water serve as a backdrop while you work on your developing and sharpening your tennis skills. Antigua and Barbuda is one of the few places in the Caribbean that offer highly-specialized tennis camps, featuring professional tennis instructors available for all levels.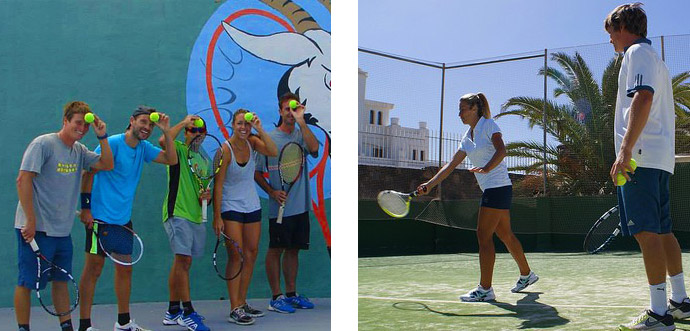 Tennis Camp Itineraries

One of the reasons most tennis fanatics don't take adult tennis camps is not knowing what to expect, and what their schedule will be like. Tennis camps are well thought-out and organized to fit all tennis-related activities into your holiday. You will also have time off to enjoy the amazing destinations you have available. Take a look below for an example itinerary for adult tennis camps for 2 days, one week and two weeks.
2 Day Adult Training Camp (Sample) - Intensive 2 day adult training (sometimes weekend camps) focus on sharpening tennis skills, depending on your level. These include specific tennis and physical training sessions, evaluations, player placement sessions, and individualized reports. To get the most out of the camp you can even include additional options like video analysis, nutritional counseling, mental training and language classes if the options exist.
Here is an example breakdown of a 2 day adult tennis camp from the Sanchez-Casal Academy in Florida:
| Activity | Duration | Description |
| --- | --- | --- |
| Tennis Training | 4 hours | Correction of basic shots and training in real-match situations |
| Physical Training | 2 hours | Physical fitness and endurance training |
| Evaluation and Player Placement | TBD | Placement defined by on-court evaluation, maximum 4:1 player to coach ratio |
| Individualized Report | TBD | Analysis of game pattern, followed by conclusion and suggestions |
One Week Adult Training Camp (Sample) - Similar to 2 day camps, one week tennis camps are designed to fit into your holiday plans perfectly. In other words, you get time to relax, time to explore the beautiful venues, and most importantly, time to work on your tennis. These camps are a lot of fun because you get more breaks than a shorter camp, and spend more time on the courts.
You also have more options as you have more time, so you can specifically train on your tennis skills or on your physical condition. These include physical conditioning specifically for tennis, integral physical and injury prevention and learning how to elaborate a basic routine to work on individual basis when you return home.
Here is an example itinerary for a one week adult tennis camp, this time from Correlajo Tennis Academy, in the Canary Islands:
| Activity | Duration | Description |
| --- | --- | --- |
| Daily group training | 2.5 hours / day | Group training with players of the same level |
| Daily individual training | 1 hour / day | Individual training with specific focus |
| Sparring lessons | TBD | Game-scenario training with a player of the same level |
| 1 x Sports massage | TBD | Relaxing sports massage designed to help muscles and joints |
| Dinner | TBD | Dinner included every evening |
Two Week Adult Training Camp (Sample) - For those lucky enough to have 2 weeks or more off, you can sign up to a rigorous adult tennis camps of two weeks or more. Again, these tennis camps accommodate to your time, so you can even spend a whole summer (3 months) training every single day and sharpening your skills. In addition, you will have more time to explore and see the real side of your favorite destination.
The Sanchez-Casal Academy in Barcelona offers an amazing 3 month adult tennis retreat, which includes full board meals, laundry services, pickup and drop off from Barcelona's El Prat de Llobregat airport, club membership and entrance fee to all activities.
A lengthy tennis camp itinerary would look like this:
| | | |
| --- | --- | --- |
| Activity | Duration | Description |
| Daily tennis training | Multiple hours | Multiple hours of individual and group tennis coaching spread over the period |
| Daily physical training | Multiple hours | Multiple hours of physical fitness training depending on player endurance |
| Mental training | 1-5 hours per month | Mental preparation classes, perfect for tournament-level players |
| 'Sparring' sessions | TBD | Game scenario training with a player of the same level |
| Physiotherapy | TBD | Muscles massages and treatments to help muscles and joints |
| Physical therapy | TBD | Consult with a professional physiotherapist and find out what muscles and joints need the most work |
| Video analysis | As required | Video analysis of your on court performance |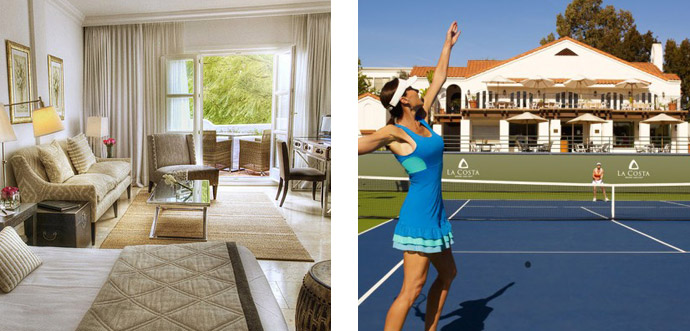 Accommodation Options

The best part about going on a tennis camp is that you get the physical workout and learn from professional tennis coaches while enjoying top-notch accommodation. These are available in all sizes and shapes, and can accommodate singles, couples, families and big groups traveling together. These include:
Host Family Homes
Basic Rooms/Lodging
Deluxe Rooms
Modern Apartments
Hotel Suites
Deluxe Suites
Bungalows
What is the Cost of a Tennis Camp?

Since they come in all length and intensities, adult tennis camps also vary in cost, depending on the accommodation you want and the duration of the camp. Ranging from weekend to 3 months, you can find a camp that accommodates to all your needs while providing you the best value.
Tennis camps can be broken down into two pricing categories: those that don't include accommodation and all inclusive camps. All inclusive camps, like the name suggests, include accommodation, transport to the tennis facilities (in case the accommodation is not located right next to the hotel or resort), and other amenities like additional playing time and airport shuttles. Packages that are not all inclusive also vary a lot: they can include some meals, additional massages and transport, but you will have to book your accommodation separately.
The most cost-effective camps are usually the all-inclusive, and are also less likely to become a hassle in the future. Nevertheless, the options are worth exploring.
For instance, The Monte-Carlo Country Club hosts an all-inclusive tennis event which includes match-play, luxury accommodation, full board, and use of all resort facilities starting at $2,195.
On the other hand, the Sanchez-Casal Academy in Barcelona provide a one week adult tennis camp, which does not include accommodation. The package does include 2 hours of tennis training per day, one hour of physical training per day, level evaluation and individualized reports, starting at $995 per person.
Regardless of the option you choose, you are will be working with some of the most qualified tennis professionals in some of the most beautiful venues on the planet.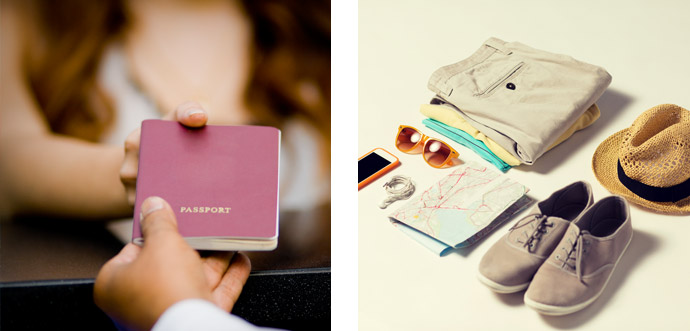 Packing and Preparing for a Tennis Camp

Packing for your tennis holiday depends heavily on what part of the world you are visiting. Your tennis travel essentials should be separated into two categories: clothing for any occasion (or "regular" clothing) and tennis gear (sports clothing).
If you are going to the Mediterranean or the tropics, light clothing may be your best option for everyday clothes. Shorts, light pants, cool shirts and string/tank tops are always a great idea for hot weather. If you are visiting the UK or any other cold area, you may want to pack a jacket or jumper.
Tennis gear should be the same regardless of your destination.The only additional equipment you may want to pack is thermal tops and underwear, depending on the time of the year. Your sports gear should include:
Sport shirts, tops and tennis shorts (Note to beginners - they have pockets for the balls)
Socks (Note to beginners - preferably more than you think you need. Sometimes it's wise to double sock, and the red clay can be quite difficult to wash away!)
Tennis shoes (Remember to have the correct soles for the right surfaces you'll be playing on)
Runners/Trainers
Headbands/wristbands for all the Andre Agassi and Björn Borg types!
Sunscreen/Sun block
Cap/visor (sport sunglasses may also be a good idea)
Ankle or joint braces (must-bring if you have suffered injuries in the past)
And of course your tennis rackets, and undoubtedly all the gear in your tennis bag!
If you're a beginner and don't own a tennis racket or don't wish to take yours with you, there would be many options available at the Camp, and Pro Shop. You could rent a tennis racket and even purchase a new one to bring home with you.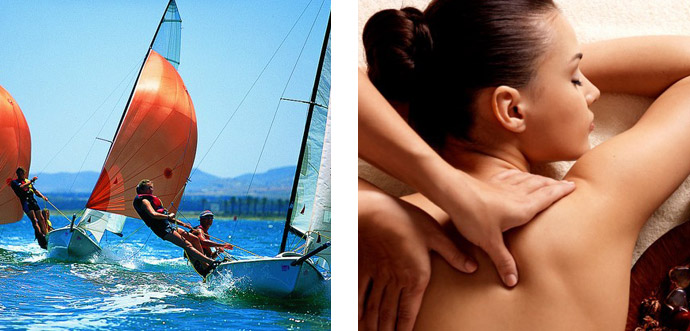 Activities other than Tennis

All camps offer a variety of activities to enjoy on your free time. These range from water sports to sightseeing:
Visit historical sights and memorials
Natural wonders like waterfalls, lakes, beaches and volcanoes, jungles and rainforests
Enjoy massages, spa treatments, and taking advantage of the fitness rooms
Swim in the pools available in all the different locations
Sun bathing
Visit city centers, historic villages and famous walks and promenades
Visit museums, cathedrals and castles
Meet new people and make new friends at the resorts, hotels and different venues
View exciting sporting events and matches
Visit some of the world's most famous casinos
Learn new, exciting sports like diving, wake-boarding, kite surfing and snorkeling
Take a bike rides along scenic paths
Hire boat charters and private fishing trips
Take advantage of the different tours available at the resorts and venues
Tennis camps are sure to provide one of the best holidays you've ever had. They offer the chance to explore exotic destinations, enjoy unique cultures and cuisine styles, witness some of the most beautiful natural wonders in the world, and of course, lift your game to the desired level.
If you are interested in finding out more contact us, and our expert team at World Tennis Travel will be glad to help you choose and build the best tennis camp, tennis academy, or tennis vacation package for you.